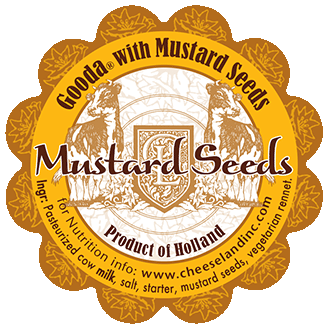 Gooda® with Mustard Seeds
Item number 2025
UPC 837787000251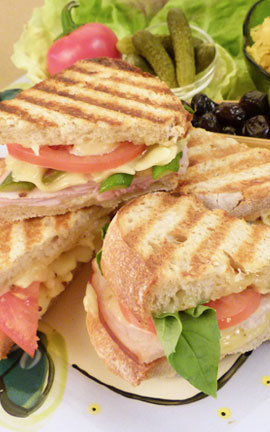 Mustard Panini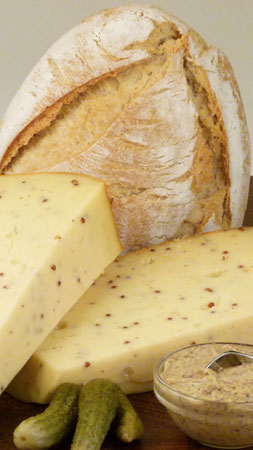 Serving Tips
Tell us what you think
Where did you find Gooda® with Mustard Seeds? How did you serve it? We love to hear from you!
Mild Cheese Seasoned with Mustard Seeds
Gooda® with Mustard Seeds
This unskimmed pasteurized cow's milk cheese is mild tasting with a flavorful addition of mustard seeds. It is easy to slice and is smooth and creamy. A versatile combination of a well-loved mild, creamy cheese with the popular, tangy taste of mustard.
Ingredients & Nutrition Facts
Ingredients: Pasturized cow's milk, mustard seeds, salt, cheese cultures, vegetarian rennet.
Nutrition Facts:
Servings per container varies:
Serving Size 1oz (28g)
% Daily Value*
---
Total Fat 9g
11%
---
---
---
Cholesterol 20mg
8%
---
Sodium 230mg
10%
---
Total carbohydrate 0
0%
---
---
Total Sugars 0g
---
Included 0g Added Sugars
---
Protein 6g
13%
Vitamin D
0%
---
Calcium 228mg
20%
---
Iron
0%
---
Potassium 28mg
0%
*The Daily Value (DV) tells you how much a nutrient in a serving of food contributes to a daily diet. 2,000 calories is used for general nutrition advice.
Recipes
Panini with Mustard Cheese and Cold Cuts
1 loaf of hearty bread: Artesian, pumpernickel, or rye
1 pound (1/2 kg) of assorted cold cuts, smoked turkey, ham etc...
2 medium tomatoes, sliced
4 asparagus spears, blanched and sliced
1/2 pound (1/4 kg) of Mustard cheese
1 jar of roasted red peppers
olive oil
1. Lay slices of bread on a cutting board
2. Layer with cheese, cold cuts and vegetables.
3. Top with another slice of bread
4. If you have a Panini machine, place 1-2 sandwiches on grill and cook, until cheese melts and bread is nicely brown. Otherwise, brush a heavy bottom skillet with a little olive oil, then grill sandwiches in pan turning to brown both sides.
5. Serve with sides of mustard, cornichons and sauerkraut.
Serving Suggestions
Start with slices of fresh rye or pumpernickel bread, add a little dab of mayo or mustard and then build yourself a mighty and memorable sandwich! Lay on slices of Black Forrest Ham or roast turkey and top it off with slices of Gooda with Mustard Seeds. Garnish your choice of pickle slices, tomato, lettuce, peperoncinis or all of the above and it's lunch time!
Beverage match
Try a refreshing hard apple or pear cider, a cool glass of Gewurtztraminer or a frothy dark beer.
Tell us what you think