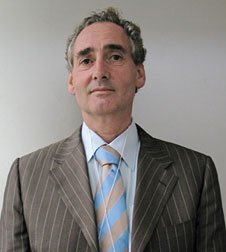 Jan Kos, Owner & Founder of Cheeseland Inc.
The real roots of Cheeseland goes back to my grandfather. He was born in Holland in 1898 in Huizen, a small fishing village on the edge of the Zuider Zee which was famous for its high-quality and abundant smoked fish. In 1926, he wisely began focusing his attention on selling cheese, another of his village's hand-made, traditional industries.
The construction of massive Dutch sea walls, completed in 1932, effectively cut his village off from the North Sea and from sea fishing, but saved the shores from rising tides. He transported his wheels of red-waxed cheese all cross the country by bicycle. As demand for this delicious staple grew, he enlisted the help of his two brothers into the business. They began distributing their products internationally, forming what would become the largest privately owned cheese company in Holland.
Born in my grandfather's home and riding with him as a small boy in his delivery trucks, I learned early on all about cheese. In 1982, I moved to New York, to help import cheese into the USA. Eventually, I started my own cheese importing company and, at age thirty five, began distributing fine Dutch Cheese throughout the East Coast of the United States, sixty years after my grandfather started selling his cheese by bicycle in Holland.
Cheeseland Incorporated is still a family business that I run with the help of my wife, two sons and a very dedicated group of employees.  We are proud to offer the widest selection of the Dutch specialty cheeses in the USA, while continuing to expand our distribution to include Canada, Brazil, Europe, Japan and Southeast Asia.
Just as the art of traditional Dutch cheese making has remained constant over the centuries, Cheeseland's mission has remained steadfast and is based on three important things: Firstly, we offer the wide variety of high quality all-natural, hormone-free, traditionally-made, Dutch cheese. Secondly, we strive to provide friendly, helpful support and personalized customer service. Thirdly, the staff of Cheeseland is truly passionate about working with you to offer the best possible products at the most competitive prices.
Jan Kos - Owner & Founder of Cheeseland Inc.