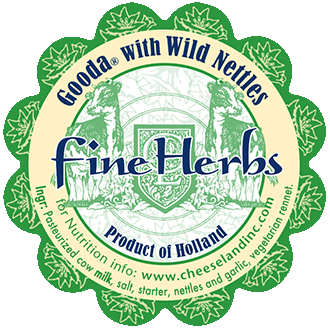 Gooda® with Fine Herbs
Item number 2002
UPC 837787002022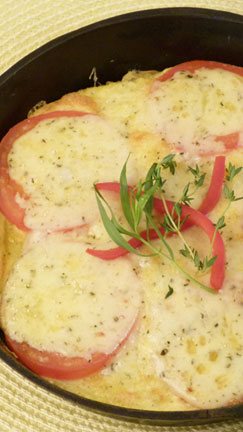 Herbed Tomato Frittata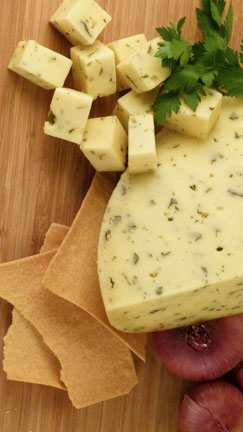 Gooda® with Fine Herbs
Tell us what you think
Where did you find Gooda® with Fine Herbs? How did you serve it? We love to hear from you!
Mild Cheese with a seasoning Fine Herbs
Gooda® with Fine Herbs
Mild, creamy smooth traditional Dutch cheese, delicately seasoned with nettles. Nettles have long been recognized for having major health benefits. The tangy aroma of nettles adds a pleasant kick to an otherwise mild cheese. It's a perfect compliment for salads and sandwiches, ideal for melting and great by itself as a snack.
Ingredients & Nutrition Facts
Ingredients: Pasteurized milk, organic coconut cream, salt, cheese culture, vegetarian rennet.
Nutrition Facts:
Servings per container varies:
Serving Size 1oz (28g)
% Daily Value*
---
Total Fat 9g
11%
---
---
---
Cholesterol 20mg
8%
---
Sodium 230mg
10%
---
Total carbohydrate 0
0%
---
---
Total Sugars 0g
---
Included 0g Added Sugars
---
Protein 6g
13%
Vitamin D
0%
---
Calcium 228mg
20%
---
Iron
0%
---
Potassium 28mg
0%
*The Daily Value (DV) tells you how much a nutrient in a serving of food contributes to a daily diet. 2,000 calories is used for general nutrition advice.
Recipes
Herbed Tomato Frittata with Fine Herb Cheese
4 medium eggs
1 tablespoon (1/2 oz) unsalted butter
sea salt and freshly ground pepper
a small handfull of grated Fine Herb cheese
1 medium ripe tomato, thinly sliced
1. Beat eggs until light and airy
2. Add salt and pepper to taste
3. In a medium egg pan, heat butter
4. Pour egg batter into pan
5. With a rubber spatula, fold egg over asr it cooks
6. layer tomatoes over still wet egg, then cover with cheese
7. Finish in the oven under the broiler, until lightly browned

This is a great dish for those garden fresh tomatoes!!
Serving Suggestions
Appetizer or Main Course
Gooda® with Fine Herbs Delicious when grated and sprinkled into salad.
toast Gooda® with Fine Herbs on a bagel.
Try a pita pocket with a few chunks of artichoke hearts, olives and shredded Romaine lettuce.
For quick and easy focaccia pizzas: choose any ready-made focaccia bread, either plain or with herbs olives, onions or sun dried tomatoes. Top the focaccia with grated cheese, some finely chopped fresh Sweet Basil or spinach and add cubed green or yellow peppers. Serve with roasted red pepper or olive tapenade as a scrumptious meal.
Beverage match
Try and Italian or California Red Table wine or a medium-bodied Merlot.
Tell us what you think