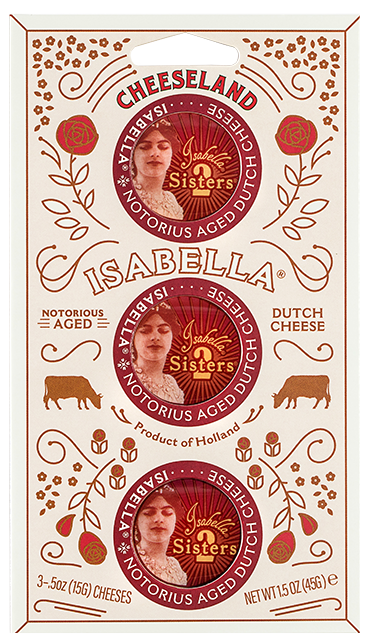 Isabella® Tripple Pack
Item #73970
UPC 837787001254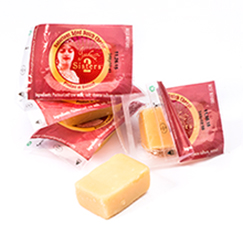 Isabella®
Item #79070
UPC 837787005559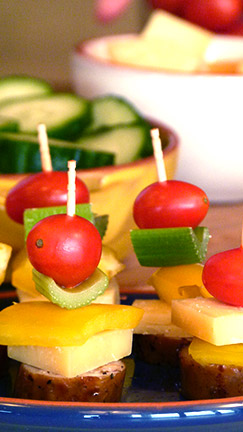 Two Sisters® Isabella®
Tell us what you think
Where did you find The Snack Pack? How did you serve Gouda? We love to hear from you!
Special Aged Cheese
Two Sisters® Isabella®
Isabella is a gourmet cheese of exceptionally high and consistent quality. It is like a buttery aged Gouda but nuttier and sweeter. Made with milk from free-range grass grazing Holsteins, a true indulgence for the genuine cheese connoisseur.
Ingredients & Nutrition Facts
Ingredients: Pasturized cow's milk, salt, cheese cultures and animal rennet.
Nutrition Facts:
Per 1 Piece:
Serving Size 1/2 oz (15g)
% Daily Value*
---
Total Fat 5g
6%
---
---
---
Cholesterol 15mg
5%
---
Sodium 80mg
4%
---
Total carbohydrate 0
0%
---
---
Total Sugars 0g
---
Included 0g Added Sugars
---
Protein 5g
9%
Vitamin D
0%
---
Calcium 124mg
10%
---
Iron
0%
---
Potassium 10mg
0%
*The Daily Value (DV) tells you how much a nutrient in a serving of food contributes to a daily diet. 2,000 calories is used for general nutrition advice.
Serving Suggestions
Beverage match
Isabella® pairs well with both red and white wine. Try something dry to accentuate it's buttery, nutty flavor.
Tell us what you think