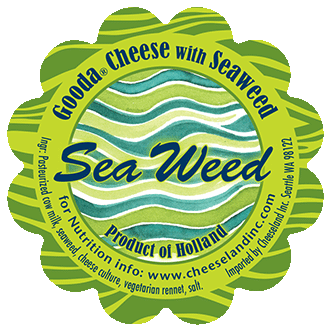 Sea Weed Gooda® #2032
Tell us what you think
Where did you find Sea Weed Gooda®? How did you serve it? We love to hear from you!
Mild Cheese with a Seasoning of Seaweed
Sea Weed Gooda®
A magnificently simple creation using the goodness of traditional extra creamy Dutch Gooda® mixed with an extra sprinkling of naturally salty and delicious seaweed. You may think you have tasted something like this before but chances are slim that you have treated yourself to anything of its kind.
Ingredients & Nutrition Facts
Ingredients: Pasteurized cow milk, seaweed, cheese culture, vegetarian rennet, salt.
Nutrition Facts: Serving Size 1oz (28g) Servings: Varied, Amount/Serving: Calories 109, Fat Cal. 81, Total Fat 9g (14% DV), Sat Fat 5g (25% DV), Trans Fat 0g (0% DV) Cholesterol 25mg (9% DV), Sodium 476 mg, (20% DV), Total Carb. 0g (0% DV), Fiber 0g (0% DV), Sugars 0g, Protein 7g, Vit A 4%, Vit C 0%, Calcium 20%, Iron 0%.
*Percent of daily values (DV) are based on a 2000 calorie diet.
Tell us what you think