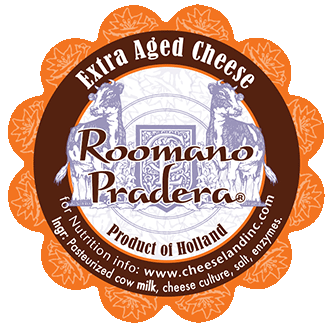 Roomano Pradera®
Item number 8600
UPC 837787008604

Potatoes au Gratin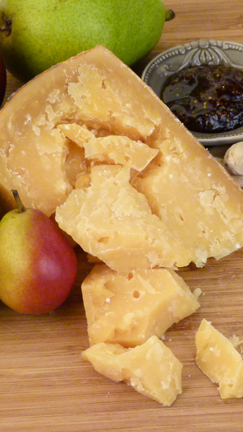 Pairing
Tell us what you think
Where did you find Roomano Pradera®? How did you serve it? We love to hear from you!
Special Aged Cheese
Roomano Pradera®
Our edible masterpiece has matured for 36 months, allowing its body to develop a muted caramel color, matched by a uniquely intense, yet sweet flavor. So versatile, Roomano Pradera® can be grated as a wonderful alternative to Parmesan or chunked as a perfect crowd pleaser at cocktail time. Chosen by "The Wine Spectator" as one of the best 100 cheeses of 2008.
Ingredients & Nutrition Facts
Ingredients: Pasturized cow's milk, salt, cheese cultures, animal rennet.
Nutrition Facts:
Servings per container varies:
Serving Size 1oz (28g)
% Daily Value*
---
Total Fat 10g
13%
---
---
---
Cholesterol 26mg
9%
---
Sodium 260mg
11%
---
Total carbohydrate 0
0%
---
---
Total Sugars 0g
---
Included 0g Added Sugars
---
Protein 9g
18%
Vitamin D
0%
---
Calcium 300mg
25%
---
Iron
0%
---
Potassium 32mg
0%
*The Daily Value (DV) tells you how much a nutrient in a serving of food contributes to a daily diet. 2,000 calories is used for general nutrition advice.
Recipes
Red Potatoes au Gratin with Roomano Pradera® & Gooda® with Peppercorns
1 lb (1/2 kg) Red and Purple Potatoes, thinly sliced and soaked in cold water until ready to cook
Small handful of grated Roomano Pradera
Large handful of grated Gooda® with Peppercorn Cheese
1 finely minced Onion
Coarsely chopped Tarragon
1 cup (8 oz) of Cream
1/2 cup (4 oz) White Wine
olive oil
Dash of nutmeg (freshly grated if possible)
1. Pre-heat oven to 350° F or 177° C.
2. Thinly slice potatoes, soak the slices in cold water until ready to cook
3. Heat a heavy-bottomed skillet to medium, add a dash of olive oil, then add minced onions and cook on medium heat until translucent.
4. Add Tarragon to onions, cook 2 more min. add wine, raise heat to medium high and cook to reduce the liquid in the pan to half.
5. Lower heat, whisk in cream and cook to reduce the cream by half.
6. Strain the sauce, return it to the same pan, on low heat whisk in the grated Gooda® with Peppercorn until smooth and creamy, add the nutmeg and set aside.
7. Drain potatoes and remove excess water on a towel.
8. Cover bottom of an oven-proof baking dish with a thin layer of sauce, add a thin layer of the sliced potatoes, sprinkle on a little Roomano and continue to layer like this, finishing with a sprinkle of Roomano Pradera on top.
9. Bake at 350° F or 177° C for 45 min. take out of oven and let stand 10 min. before serving.
Serving Suggestions
Appetizer, Main Course or Dessert
This Aged Cheese is great served as an appetizer or dessert but also can add an extra touch to your main course recipes.
Beverage match
Pinot Noir, Cabernet Sauvignon, Brown Ale, Port, German and Austrian White wines.
Tell us what you think