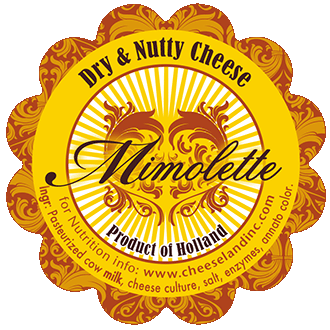 Mimolette
Item number 2050
UPC 837787002503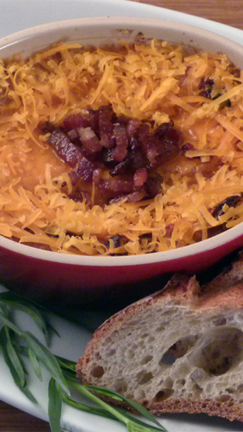 Mimolette French Onion Soup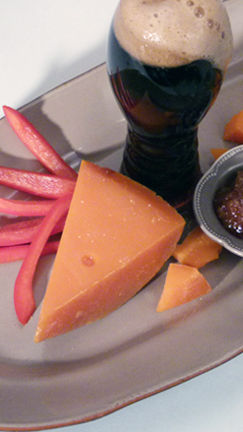 Mimolette Pairing
Tell us what you think
Where did you find Mimolette? How did you serve it? We love to hear from you!
Aged Cheese
Mimolette
Rich in Color Rich in Taste! This cheese is aged for about 9 months and has a very fruity and nutty flavor. The bright, deep tangerine color of the cheese comes from the annatto plant. When shaved this cheese helps create an exquisite touch to your creative cooking. It looks fabulous on spinach salads and it also pairs well with apples and pears.
Ingredients & Nutrition Facts
Ingredients: Pasturized cow's milk, salt, cheese cultures, animal rennet, annatto color.
Nutrition Facts:
Servings per container varies:
Serving Size 1oz (28g)
% Daily Value*
---
Total Fat 8g
10%
---
---
---
Cholesterol 25mg
9%
---
Sodium 340mg
15%
---
Total carbohydrate 0
0%
---
---
Total Sugars 0g
---
Included 0g Added Sugars
---
Protein 9g
17%
Vitamin D
0%
---
Calcium 279mg
20%
---
Iron
0%
---
Potassium 28mg
0%
*The Daily Value (DV) tells you how much a nutrient in a serving of food contributes to a daily diet. 2,000 calories is used for general nutrition advice.
Recipes
Mimolette French Onion Soup
(serves four)
2 medium onions
5 tablespoons (2.5 oz) butter
2 thick slices of smoked bacon
6 cups (48 oz) of beef or chicken stock
1 cup (8 oz) wine
1 small baguette
1 large handfull of grated Mimollete
1. In a small pan gently sweat onions and garlic in the butter until tender.
2. Add the bacon, stock, wine and bouquet garni*, simmer covered for 30 minutes - remove the bacon.
3. Puree the soup in a blender or food processor.
4. Slice the baguette and sprinkle grated cheese on top of each slice.
5. Ladle the soup into ovenproof bowls, place a slice of the baguette on top of each serving, sprinkle with grated Mimolette.
6. place bowl under the boiler until the cheese has melted and is golden brown.
*Bouquet Garni: Herb Bouquet - aromatic herbs or plants, tied together into a little bundle, used for flavoring stews and sauces
3 or 4 sprigs of parsley
1 bay leaf
2 sprigs of fresh thyme or a dash of dried thyme
Serving Suggestions
Appetizer & Main Course
Enjoy as an appetizer or add it to your recipes.
Beverage match
Serve with a Red Bordeaux or a dark stout beer.
Tell us what you think