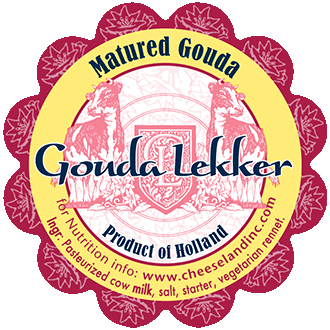 Gouda Lekker
Item number 2222
UPC 837787002220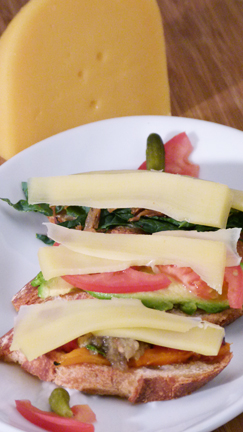 Lekker Crostini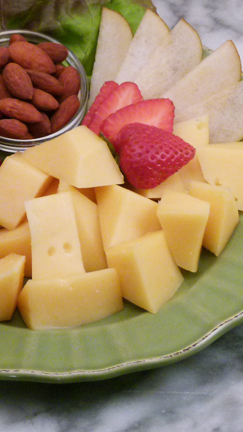 Pairing
Tell us what you think
Where did you find Gouda Lekker? How did you serve it? We love to hear from you!
Aged Gouda
Gouda Lekker - Matured Gouda
"Lekker" translates to "delicious" in English. This matured Gouda has been aged for six months. This cheese has a delicate, full and creamy taste. It's a wonderful snacking cheese.
Ingredients & Nutrition Facts
Ingredients: Pasteurized milk, salt, cheese culture, vegetarian rennet.
Nutrition Facts:
Servings per container varies:
Serving Size 1oz (28g)
% Daily Value*
---
Total Fat 9g
12%
---
---
---
Cholesterol 25mg
8%
---
Sodium 250mg
11%
---
Total carbohydrate 0
0%
---
---
Total Sugars 0g
---
Included 0g Added Sugars
---
Protein 7g
14%
Vitamin D
0%
---
Calcium 244mg
20%
---
Iron
0%
---
Potassium 30mg
0%
*The Daily Value (DV) tells you how much a nutrient in a serving of food contributes to a daily diet. 2,000 calories is used for general nutrition advice.
Recipes
Gouda Lekker® Crostini with Roasted Red Peppers, Garlic & Eggplant
1 loaf of hearty French bread
2 roasted orange or red peppers
1 roasted head of garlic
1 roasted eggplant
1/2 cup (4 oz) of Virgin olive oil
Gouda Lekker
1. Preheat oven to 350° F or 177° C.
2. Slice bread on the diagonal and brush with olive oil
3. Place slices on baking dish and into oven for 10 minutes
4. Remove from oven and top with roasted vegetable and Gouda Lekker
5. Drizzle a small amount of olive oil on top, sprinkle with sea salt and fresh ground pepper to taste
6. Serve
Serving Suggestions
Appetizer or Main Course
Serve as an appetizer with fruit and nuts.
Beverage match
Dry French Red.
Tell us what you think