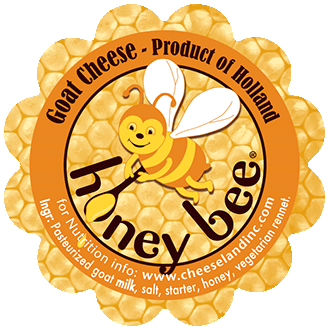 Honey Bee Goat® Cheese
Item number 2119
UPC 837787009700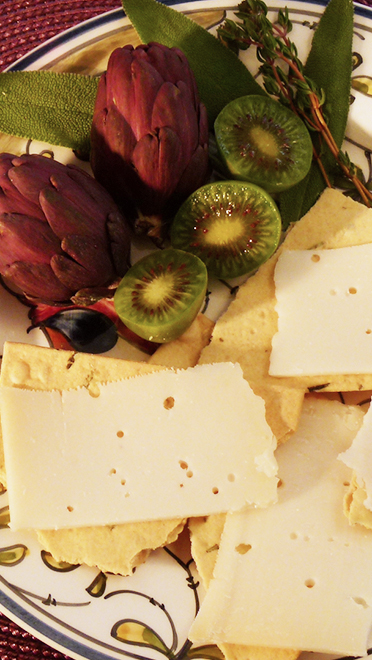 Cracker Plate
Tell us what you think
Where did you find Honey Bee Goat®? How did you serve it? We love to hear from you!
Goats Milk Cheese with Honey
Honey Bee Goat®
Made with a drizzle of honey added to pure goat milk for a cashew-like nutty sweetness. Slightly sweet, full of flavor, yet not strong or salty. Easy to slice, grate or cube, wonderful in salads or as a snack with fruit.
World Cheese Champion - 2016.
At the Madison, Wisconsin, USA World Cheese Competition, in the category called: Flavored Semi-soft (semi-hard) Goat's Milk Cheese, our Honey Bee Goat® cheese received the second prize and scored 99.5 points out of a 100.
Ingredients & Nutrition Facts
Ingredients: Pasturized goat milk, salt, cheese cultures, honey, vegetarian rennet.
Nutrition Facts:
Servings per container varies:
Serving Size 1oz (28g)
% Daily Value*
---
Total Fat 9g
11%
---
---
---
Cholesterol 29mg
10%
---
Sodium 180mg
8%
---
Total carbohydrate 0
0%
---
---
Total Sugars 0g
---
Included 0g Added Sugars
---
Protein 6g
12%
Vitamin D
0%
---
Calcium 218mg
15%
---
Iron
0%
---
Potassium 28mg
0%
*The Daily Value (DV) tells you how much a nutrient in a serving of food contributes to a daily diet. 2,000 calories is used for general nutrition advice.
Recipes
More Honey Bee Goat® Recipes:
Honey Bee Goat® Burger, Honey Bee Goat® fig & Apple Tasties, Honey Bee BLT
Serving Suggestions
Main Course, Appetizer or Dessert
Thinly slice Honey Bee Goat®, serve on a cheese and cracker plate alongside your favorite fruit.
Honey Bee Goat® Cheese melts beautifully to liven up any dish
Beverage match
Merlot or your favorite Red or White wine.
Tell us what you think