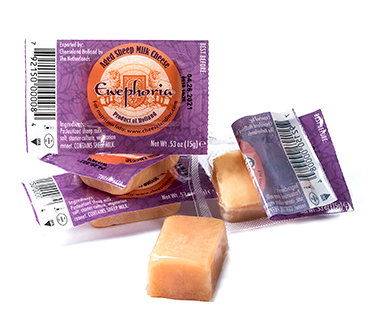 Ewephoria® Aged
Item #76000
UPC 792150000084
Tell us what you think
Where did you find Ewephoria® Aged? How did you serve it? We love to hear from you!
15 gram - Snack Packs
Ewephoria® Aged Sheep Milk Cheese
Unlike any other sheep milk cheese you have ever tasted before. This cheese has been aged for one year and has developed a sweet and nutty flavor. Experience it for dessert with red or green grapes.
Ingredients: Pasturized sheep's milk, salt, cheese cultures, vegetarian rennet.
Nutrition Facts:
Per 1 Piece:
Serving Size 1/2 oz (15g)
% Daily Value*
---
Total Fat 5g
6%
---
---
---
Cholesterol 15mg
5%
---
Sodium 125mg
6%
---
Total carbohydrate 0
0%
---
---
Total Sugars 0g
---
Included 0g Added Sugars
---
Protein 4g
7%
Vitamin D
0%
---
Calcium 126mg
10%
---
Iron
0%
---
Potassium 13mg
0%
*The Daily Value (DV) tells you how much a nutrient in a serving of food contributes to a daily diet. 2,000 calories is used for general nutrition advice.
Tell us what you think