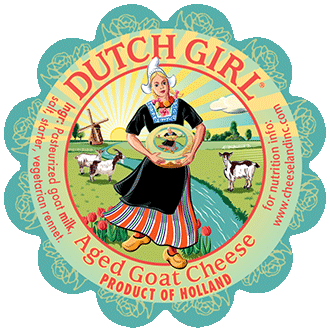 Dutch Girl® Aged Goat Cheese
Item number 2111
UPC 837787002213
Aged Goat Cheese
Dutch Girl®
Dutch Girl® is a popular Gouda style goat cheese aged for 7 months to create a rich creamy butterscotch-like flavor. It is sweet and satisfying without the salty or tarte flavors associated with goat cheese. If you like our Ewephoria® sheepmilk cheese, you will love our Dutch Girl® goat cheese. It makes a delightful addition to a cheese plate or as part of an appetizer.
Awards
International Cheese Awards - 2017
At the International Cheese Awards in Nantwich, England, "Dutch Girl®" Aged Goat cheese won the gold medal in it's class.
World Cheese Champion - 2016
At the Madison, Wisconsin, USA World Cheese Competition, in the category called: Semi-Soft (semi-hard) Goat's Milk Cheeses, "Dutch Girl®" Aged Goat cheese received 5th place with 99.35 points.
Ingredients & Nutrition Facts
Ingredients: Pasturized goat milk, salt, cheese cultures, vegetarian rennet.
Nutrition Facts:
Servings per container varies:
Serving Size 1oz (28g)
% Daily Value*
---
Total Fat 9g
12%
---
---
---
Cholesterol 30mg
10%
---
Sodium 200mg
9%
---
Total carbohydrate 0
0%
---
---
Total Sugars 0g
---
Included 0g Added Sugars
---
Protein 7g
13%
Vitamin D
0%
---
Calcium 233mg
20%
---
Iron
0%
---
Potassium 0mg
0%
*The Daily Value (DV) tells you how much a nutrient in a serving of food contributes to a daily diet. 2,000 calories is used for general nutrition advice.
Tell us what you think
Where did you find Dutch Girl® - Aged Goat Cheese? How did you serve it? We love to hear from you!