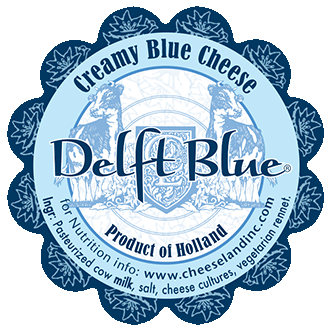 Delft Blue®
Item number 9003
UPC 837787009038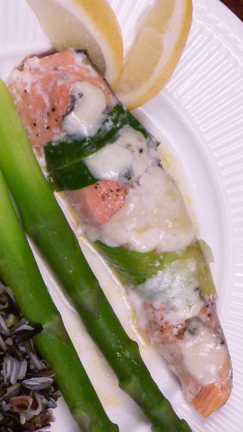 Delft Blue® Salmon

Serving Tips
Tell us what you think
Where did you find Delft Blue®? How did you serve it? We love to hear from you!
Blue Cheese
Delft Blue®
This cow's milk blue cheese is very rich and creamy. It has a distinctive buttery flavor with a subtle sweet finish. Texture is firm enough to slice and it's superb when melted. An excellent dessert cheese.
Ingredients: Pasteurized cow's milk, pasteurized sweet cream, salt, cheese cultures, vegetarian rennet, Penicillium Roqueforti.
Nutrition Facts:
Servings per container varies:
Serving Size 1oz (28g)
% Daily Value*
---
Total Fat 11g
14%
---
---
---
Cholesterol 30mg
11%
---
Sodium 240mg
10%
---
Total carbohydrate 0
0%
---
---
Total Sugars 0g
---
Included 0g Added Sugars
---
Protein 7g
14%
Vitamin D
0%
---
Calcium 168mg
15%
---
Iron
0%
---
Potassium 19mg
0%
*The Daily Value (DV) tells you how much a nutrient in a serving of food contributes to a daily diet. 2,000 calories is used for general nutrition advice.
Recipe:
Baked Leek wrapped Salmon topped with Delft Blue®
Serving Suggestions
Appetizer or Dessert
This cheese is a perfect centerpiece for a grand fruit platter. Serve it forth with slices of fresh seasonal delicacies such as crisp green or yellow apples, red pears, fresh figs, strawberries, Asian pears, grapes, peaches, nectarines or apricot halves. Add a basket of crackers or try toasted baguette slices for a new spin on bruschetta. Accompany this with small bowl of lightly roasted pecans, walnuts or almonds and your appetizer or desert course is complete.
Beverage match
Serve with dry, white wines like Chardonnay, Kabinelt, Halbtroken German Rieslings or a Dessert Sauterne.
Tell us what you think