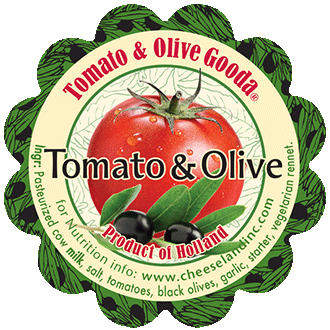 Gooda® with Tomato & Olive
Item number 2010
UPC 837787002015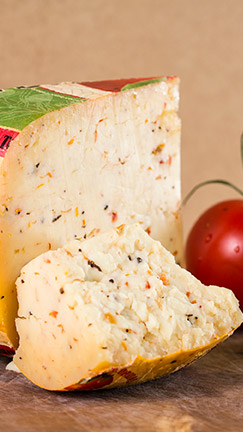 Gooda® with Tomato & Olive
Tell us what you think
Where did you find Gooda® with Tomato & Olive? How did you serve it? We love to hear from you!
Mild Cheese with Tomato & Black Olives
Gooda® with Tomato & Olive
Mild, creamy smooth traditional Dutch cheese, with tomato & black olives added for flavor and texture. The delighful flavor of the fresh red tomaotos and italian black olives, add a pleasant kick to this mild cheese. A perfect compliment for salads and sandwiches, ideal for melting and great by itself as a snack.
Ingredients & Nutrition Facts
Ingredients: Pasteurized cow's milk, salt, tomatoes, black olives, garlic, cheese cultures, vegetarian rennet.
Nutrition Facts: Serving Size 1oz (28g) Servings: Varied, Amount/Serving: Calories 100, Fat Cal. 80, Total Fat 9g (14% DV), Sat Fat 5g (25% DV), Trans Fat 0g (0% DV), Cholesterol 30mg (9% DV), Sodium 250 mg, (10% DV), Total Carb. 0g (0% DV), Fiber 0g (0% DV), Sugars 0g, Protein 7g, Vit A 4%, Vit C 0%, Calcium 20%, Iron 0%.
*Percent of daily values (DV) are based on a 2000 calorie diet.
Serving Suggestions
Appetizer or Main Course
Serve as a pre-dinner snack with dry crackers.
Slice onto focaccia bread, either plain, or with herbs, olives, or sun dried tomatoes. Top the focaccia with grated cheese, some finely chopped fresh Sweet Basil or spinach and add cubed green or yellow peppers. Serve with roasted red pepper or olive tapenade as a scrumptious meal.
Delicious when grated and sprinkled into pasta or omelettes.
Beverage match
Italian or California Red Table wine or a medium-bodied Merlot.
Tell us what you think