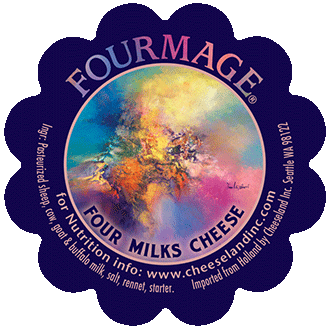 Fourmage®
Item number 7700
UPC 837787007706
Tell us what you think
Where did you find Fourmage®? How did you serve it? We love to hear from you!
Four Milks Cheese
Fourmage®
Four kinds of milk: Buffalo, Sheep, Cow and Goat milk, have been paired together into this one fine cheese. The combination of four grass fed milks seem to to have composed my favorite cheese symphony, "Deliciosa". It is just an amazing cheese, creamy and full of layers upon layers of flavor. Once you have tried it, you want more and more and...
Awards
International Cheese Awards - 2017.
At the International Cheese Awards in Nantwich, England, "Fourmage®" Four Milks cheese won the silver medal in it's class.
Ingredients & Nutrition Facts
Ingredients: Pasteurized sheep, cow, goat & buffalo milk, salt, rennet, starter.
Nutrition Facts: Serv Size 1oz (28g) Servings: Varied, Amount/Serv: Calories 100, Fat Cal. 72, Total Fat 8g (12% DV), Sat. Fat 6g (3% DV), Trans Fat 0g, Cholesterol 31mg (10% DV), Sodium 530mg (22% DV), Total Carb. 0g (0% DV), Fiber 0g (0% DV), Sugars 0g, Protein 6g, Vit A 6%, Vit C 0%, Calcium 24%, Iron 0%
*Percent of daily values (DV) are based on a 2000 calorie diet.
Learn more about Fourmage and the Artwork on the label.
Tell us what you think