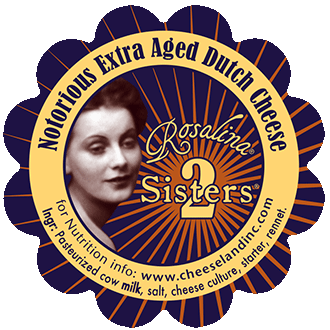 Two Sisters® Rosalina®
Item number 9089
UPC 837787000899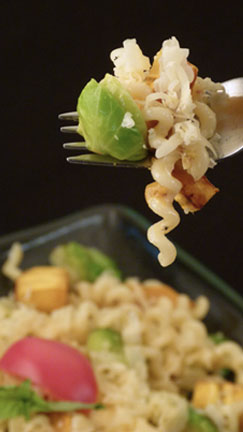 Spaghetti a la Rosalina®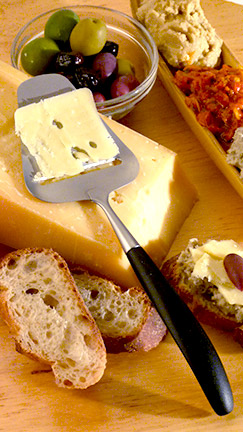 Serving tips
Tell us what you think
Where did you find Two Sisters® Rosalina®? How did you serve it? We love to hear from you!
Special Aged Cheese
Two Sisters® Rosalina®
Same cheese as the Isabella except aged 6 months longer. This cheese has developed a sweet butterscotch-like flavor, nutty and salty, with more crunches than the Isabella. The cheese is hard, but softens quickly in your mouth. It is rich and satisfying and a perfect cheese for sharing among friends. It pairs very well with a deep dark red wine.
Ingredients & Nutrition Facts
Ingredients: Pasteurized cow milk, salt, cheese culture, starter cultures, animal rennet.
Nutrition Facts: Serv Size 1oz (28g) Servings: Varied, Amount/Serving: Calories 110, Fat Cal. 77, Total Fat 8.5g (13% DV), Sat. Fat 6.1g (30.5% DV), Trans Fat 0g (0% DV), Cholesterol 25mg (8.2% DV), Sodium 213mg (9% DV), Total Carb. 0g (0% DV), Fiber 0g (0% DV), Sugars 0g, Protein 8.25g, Vit A 0%, Vit C 0%, Calcium 26.4%, Iron 0%.
*Percent of daily values (DV) are based on a 2000 calorie diet.
Recipes
Spaghetti a la Rosalina®
With Winter Roasted Vegetables Brussels Sprouts, Baked Squash
1 lb (1/2 kg) Fusili Pasta
1 large handful of grated Rosalina® Cheese
1/2 lb (1/4 kg) Brussels Sprouts trimmed and quartered
Medium-sized Squash (Delicata or Butternut) peeled and sliced into bite-sized pieces
A large spoonful of Terragon, coarsely chopped 
1/4 cup (2 oz) olive oil
Salt and Pepper
1. Pre-heat oven to 350° F or 177° C.
2. Roast the squash on a oiled sheet for 20 minutes until tender
3. While squash is baking, cook pasta according to package directions, drain and drizzle with oil, keep warm
4. Sauté Brussel Sprouts with a dash of oil for two minutes, add a few tablespoons of water, and let steam while covered with heat off
5. Toss pasta with sautéd Brussels Sprouts, add the roasted squash and grated cheese with a little more oil as necessary, 
6. Salt and Pepper to taste, serve warm.
Serving Suggestions
Appetizer & Main Course
The very best way to enjoy Rosalina® is to serve it simply, as a stunning and memorable party appetizer. Cut it into small cubes and serve it with your favorite spreads.
Tell us what you think