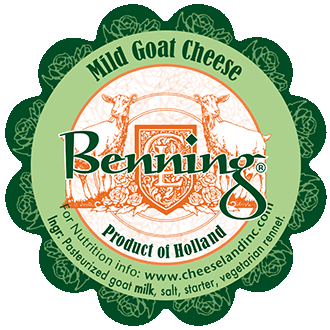 Benning® - Mild Goat Cheese
Item number 2124
UPC 837787002145


Crunchy Brochetta Appetizers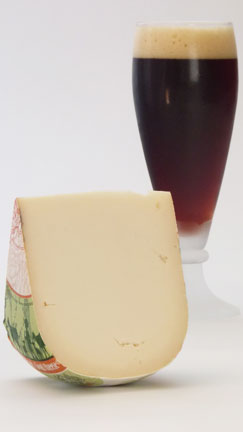 Benning®
Tell us what you think
Where did you find Benning® - Mild Goat Cheese? How did you serve it? We love to hear from you!
Mild Goats Milk Cheese
Benning®
This popular, versatile cheese has a pleasantly mild, fresh taste and pure white color. It is made from light, fresh goats' milk, formed into the classic Gouda-style wheels and aged to give it great taste and a creamy smooth texture. It appeals to children as well as adults. Benning™ Goat Cheese is easy to melt, slice or grate. It makes great sandwiches, perfect for homemade pizza and delicious with fruit.
Ingredients & Nutrition Facts
Ingredients: Pasteurized goat milk, salt, starter, vegetarian rennet.
Nutrition Facts: Serv Size 1oz (28g) Servings: Varied, Amount/Serving: Calories 100, Fat Cal. 70, Total Fat 8g (12% DV), Saturated Fat 4g (20% DV), Trans Fat 0g, Cholesterol 30mg (9% DV), Sodium 130mg (5% DV), Total Carb. 0g (0% DV), Fiber 0g (0% DV), Sugars 0g, Protein 6g, Vit A 3%, Vit C 0%, Calcium 20%, Iron 0%
*Percent of daily values (DV) are based on a 2000 calorie diet.
Recipes
Crunchy Brochetta Appetizers
Brochetta Loaf
Olive Oil
Red Pepper Sauce - Roasted Peppers - Or your favorite Tapenade
1. Slice your brochetta loaf at an angle.
2. Brush each piece with oilve oil.
3. Toast the sliced brochetta in the oven until crunchy.
4. Sprinkle on grated Benning®.
5. Top it off with a dollap of your favoirte tapenade.
More Benning® Goat Cheese Recipes:
Black Bean Soup, Traditional Dutch Appetizer.
Serving Suggestions
Main Course, Appetizer or Dessert
Benning™ goat cheese is easy to melt, slice or grate. It makes great sandwiches for the kids and melts beautifully on Pizza.
Beverage match
Try our Benning Goat Mild with your favorite dark local beer. It also goes perfectly with Sauvignon Blanc.
Tell us what you think