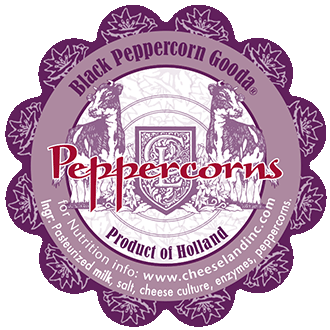 Gooda® with Peppercorns
Item number 2020
UPC 837787002206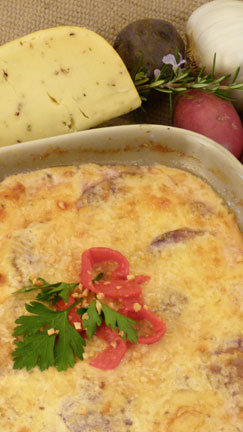 Potatoes au Gratin with Peppercorn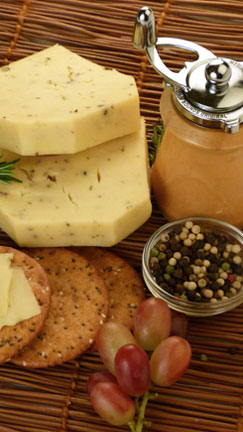 Serving Tips
Tell us what you think
Where did you find Gooda® with Peppercorns? How did you serve it? We love to hear from you!
Mild Cheese Seasoned with Peppercorns
Gooda® with Peppercorns
This mild creamy Gouda with black peppercorns offers a taste nice balance. It's a versatile cheese with a unique and interesting flavor profile. It's a good cheese to use in salads, sandwiches and omelettes.
Ingredients & Nutrition Facts
Ingredients: Pasteurized milk, salt, cheese culture, vegetarian rennet, peppercorns.
Nutrition Facts: Serving Size 1oz (28g) Servings: Varied, Amount/Serving: Calories 100, Fat Cal. 80, Total Fat 9g (14% DV), Sat Fat 5g (25% DV), Trans Fat 0g (0% DV) Cholesterol 30mg (9% DV), Sodium 250mg (10% DV), Total Carb. 0 (0% DV), Fiber 0g (0% DV), Sugars 0g, Protein 7g, Vit A 4%, Vit C 0%, Calcium 20%, Iron 0%.
*Percent of daily values (DV) are based on a 2000 calorie diet.
Recipes
Red Potatoes au Gratin with Peppercorn Cream Sauce
1 lb (1/2 kg) Red and Purple Potatoes,
thinly sliced and soaked in cold water until ready to cook
1 small fistful of grated Roomano Pradera
REDUCTION CREAM SAUCE:
1 large handful of grated Peppercorn Cheese
1 finely minced Onion
Coarsely chopped Tarragon
1 cup (8 oz) of Cream
1/2 cup (4 oz) White Wine
Dash of olive oil
dash of nutmeg (freshly grated if possible)
1. Pre-heat oven to 350° F or 177° C
2. Thinly slice potatoes, soak the slices in cold water until ready to cook
REDUCTION CREAM SAUCE:
3.  Heat a heavy-bottomed skillet to medium, add dash of olive oil, then add minced onions and cook on medium heat until translucent.
4. Add Tarragon to onions, cook 2 more minutes, add wine, raise heat to medium high and cook to reduce the liquid in the pan to half.
5. Lower heat, whisk in cream and cook to reduce the cream by half.
6. Strain the sauce, return it to the same pan, on low heat whisk in the grated Peppercorn cheese until smooth and creamy, add the nutmeg and set aside.
7. Drain potatoes and remove excess water on a towel.
8. Cover bottom of an oven-proof baking dish with a thin layer of sauce, add a thin layer of the sliced potatoes, sprinkle on a little hard grated cheese and continue to layer like this, finishing with a sprinkle of hard grated cheese on top.
9. Bake at 350° F or 177° C for 45 minutes, take out of oven and let stand 10 minutes before serving.
Serving Suggestions
Appetizer or Main Course
This flavored cheese goes well with many potato, rice and egg dishes such as quiches, casseroles or frittatas.
Beverage match
For breakfast or brunch, try serving mimosas made with dry champagne and orange juice. For lunch or dinner, enjoy with a California Zinfandel or Italian Primitivo.
Tell us what you think