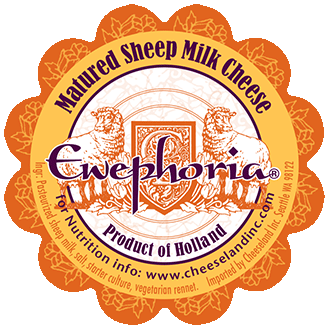 Ewephoria® Matured
Item number 6400
UPC 837787006402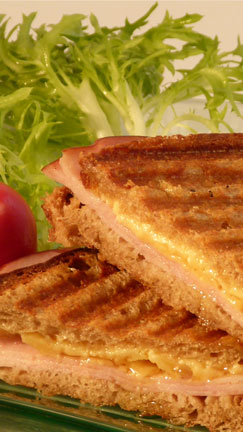 Ewephoria® Matured Toasty
Tell us what you think
Where did you find Ewephoria® Matured? How did you serve it? We love to hear from you!
Sheeps Milk Cheese
Ewephoria® Matured - Aged 4 months
This artisan cheese comes from a small sheep farm where the animals get plenty of sunshine, fresh grass and clean air. The local soil is reclaimed mineral rich ocean clay, providing for an exceptionally creamy milk. A truly delicious cheese, it's flavor is mellow but rich with a sweet and nutty finish. No wonder it's so popular! Aged for four months and made with vegetable rennet.
Awards
International Cheese Awards - 2017.
At the International Cheese Awards in Nantwich, England, "Ewephoria® Matured" Sheeps Milk cheese won the gold medal in it's class.
Ingredients & Nutrition Facts
Ingredients: Pasteurized sheep's milk, salt, starter culture and vegetarian rennet.
Nutrition Facts: Serv Size 1oz (30g) Servings: Varied, Amount/Serving: Calories 120, Fat Cal. 100, Total Fat 11g (17% DV), Sat. Fat 7g (35% DV) Trans Fat 0g (0% DV), Cholesterol 40mg (12% DV), Sodium 190mg (8% DV) Total Carb. 0g (0% DV), Fiber 0g (0% DV), Sugars 0g, Protein 5g Vit A 4%, Vit C 0%, Calcium 20%, Iron 0%.
*Percent of daily values (DV) are based on a 2000 calorie diet.
Recipes
Ewephoria® Matured Toasty
Sliced Bread of your choice
Ewephoria® Matured
Ham
Butter or Oive Oil
1. Brush olive oil, or spread butter on each slice of bread.
2. Place Ewephoria® Matured, ham and your favorite sandwich ingredients in the sandwich maker.
3. If you don't have a sandwich toaster, place the sandwich over low heat in a pan with lid, on the stove top and lightly toast each side.
A simply delightful sandwich.
Beverage match
Pairs nicely with a dry white wines or Cabernet.
Tell us what you think