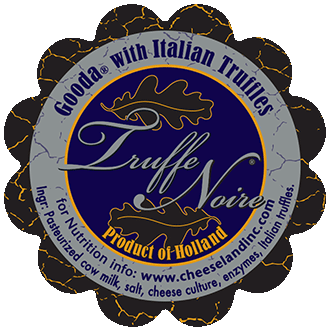 Truffe Noire®
Item number 9009
UPC 837787009090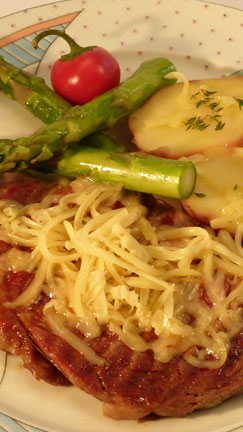 Truffe Noire® Steak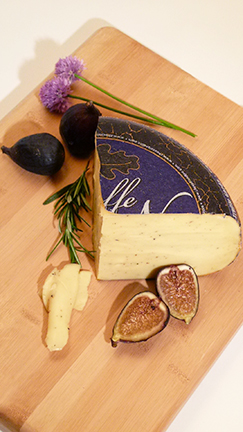 Truffe Noire®
Tell us what you think
Where did you find Truffe Noire®? How did you serve it? We love to hear from you!
Mild Cheese with Italian truffles
Truffe Noire® - Truffle Cheese
This creamy smooth Gouda style cheese has a generous sprinkling of delicate black Italian summer truffles. Because The age-old European tradition, of serving several cheeses on a tray to form a separate course at the end of the meal, has made it onto the menus of top U.S. restaurants, this popular cheese appears on many after dinner cheese trays. Truffle lovers find it most delicious!
Ingredients & Nutrition Facts
Ingredients: Pasteurized cows milk, salt, cheese culture, vegetarian rennet, Italian truffles.
Nutrition Facts: Serv Size 1oz (28g) Servings: Varied Amount/Serving: Calories 100 Fat Cal. 80, Total Fat 9g (14% DV) Sat. Fat 5g (25% DV), Trans Fat 5g (0% DV), Cholest. 30mg (9% DV), Sodium 250mg, (10% DV), Protein 7g, Vit A 4%, Calcium 20%.
*Percent of daily values (DV) are based on a 2000 calorie diet.
Brothers Green Truffe Noire® Corn
Recipes
More Truffe Noire® Recipes:
Quick Ham Roll-Ups, Truffe Noire® Steak, Truffe Noire® Grilled on a Stick, Truffe Noire® Corn
Serving Suggestions
Appetizer, Main Course or Dessert
Try our Truffe Noire® with some rustic bread. Serve it with a small plate of olive oil and vinegar for dipping.
Beverage match
Serve with a foresty Cabernet
Tell us what you think