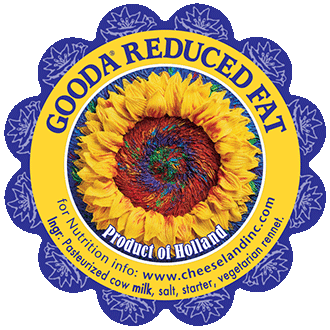 Gooda® Light - Reduced Fat
Item number 2464
UPC 837787002640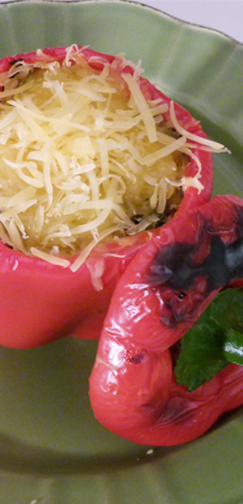 Stuffed Peppers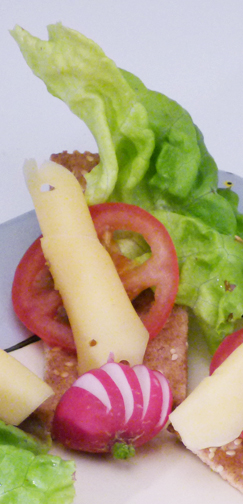 Pairing
Tell us what you think
Where did you find Gooda® Light - Reduced Fat? How did you serve it? We love to hear from you!
Mild Cheese
Gooda® Light - Reduced Fat
This is the best-selling imported reduced fat cheese in the USA! This Gooda® has sensational flavor and a creamy smooth texture, unlike other fat-reduced cheeses. It is also perfect for cooking and melts beautifully.
Ingredients & Nutrition Facts
Contains 38% less fat, 40% less saturated fat, 35% less sodium, 20% less cholesterol than regular Gouda Cheese. Fat content has been reduced from 8g to 5g, saturated fat reduced from 5g to 3g, sodium reduced from 260mg to 170mg. Cholesterol reduced from 25mg to 20 mg.
Ingredients: Pasteurized cow milk, salt, starter, vegetarian rennet.
Nutrition Facts: Serving Size 1oz (28g) Servings: Varied, Amount per Serving: Calories 90, Fat Calories 50, Total Fat 5g (8% DV), Sat Fat 3g (15% DV), Trans Fat 0g, Cholest. 20 mg (6% DV), Sodium 170 mg (7% DV), Total Carb 0g (0% DV), Fiber 0g (0% DV), Sugars 0g, Protein 9g, Vit A 4%, Vit C 0%, Calcium 30%, Iron 0%.
*Percent of daily values (DV) are based on a 2000 calorie diet.
Recipes
Stuffed Peppers with Reduced Fat Gooda®
4 large red or orange peppers
1 small red onion
1 clove garlic
4-5 sprigs Italian Parsley
1/2 medium - sized carrot
1/2 pound (1/3 kg) ground meat
olive oil
Salt and freshly ground pepper to taste
1/2 cup (4 oz) dry red wine
2 tablespoons (1 oz) canned tomatoes
1/2 cup (4 oz) chicken broth
1 egg yolk
small handfull of bread crumbs
small handfull of grated Reduced Fat Gooda
1. Soak the peppers in cold water for 10 min, then drain.
2. Cut the tops off the peppers and remove seed from inside.
3. Chop the onion, garlic, parsley and carrot.
4. In a medium saucepan over medium heat, add a large dash of olive oil.
5. When oils is hot add chopped ingredients, starting with onion and sauté for 5 to 8 min. or until light brown.
6. Add ground meat and sauté for 10 more min.
7. Add wine and simmer until wine is evaporated (5-8 min.)
8. Add tomatoes until sauce is thick, stirring continuously.
9. Remove the sauce from stove and allow to cool.
10. Preheat oven to 375° F or 190° C.
11. Add egg yolk and 2 large pinches of cheese, mix thouroughly.
12. Fill the peppers with the contents of the pan.
13. Sprinkle the the tops with breadcrumbs.
14. Place peppers in a Pyrex baking dish and pour the broth and a dash of olive oil into pan (not peppers).
15. Bake in the preheated oven for 40 min. until peppers are soft.
16. Remove the baking dish from oven, allow to cool for 10 min.
17. Transfer the peppers to a serving dish, garnish with Cheese.
Serving Suggestions
Appetizer & Main Course
Enjoy as an appetizer or lighten up your favorite recipes.
Beverage match
Semi-dry Rose or Chardonnay.
Tell us what you think