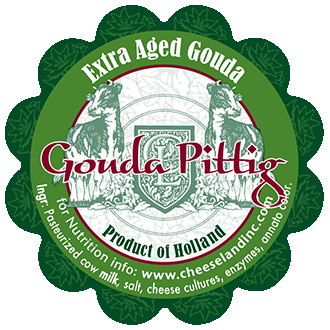 Gouda Pittig Extra Aged
Item number 2238
UPC 837787002237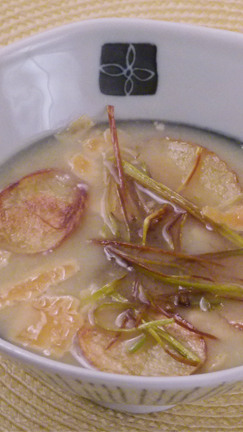 Potato Leek Soup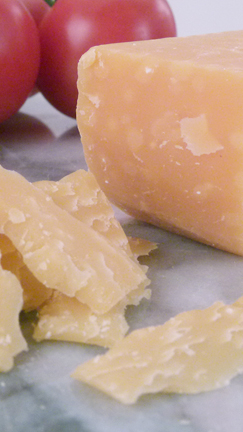 Pairing
Tell us what you think
Where did you find Gouda Pittig Extra Aged? How did you serve it? We love to hear from you!
Aged Gouda
Gouda Pittig Extra Aged
This Gouda has been aged for over four years. The flavors have been nicely concentrated without getting too salty. Even though it is aged, it is still easy to cut. It has a nice tangy creamy flavor. Good for snacking, cooking or as a dessert cheese.
Ingredients & Nutrition Facts
Ingredients: Pasteurized cow's milk, salt, cheese cultures, enzymes, annatto color.
Nutrition Facts: Serving Size 1oz (28g) Servings: Varied, Amount/Serving: Calories 120, Fat Cal. 90, Total Fat 10g (15% DV), Sat Fat 6g (25% DV), Trans Fat 0g (0% DV), Cholesterol 30mg (8% DV), Sodium 270mg (11% DV), Total Carb. 0g (0% DV), Fiber 0g (0% DV), Sugars 0g, Protein 7g, Vit A 4%, Vit C 0%, Calcium 30%, Iron 0%
*Percent of daily values (DV) are based on a 2000 calorie diet.
Recipes
Potato Leek Soup With Gouda Pittig (serves six)
8 cups (64 oz) boiling water
salt
1 pound (1/2 kg) potatoes (peeled, quartered lengthwise, sliced)
1 pound (1/2 kg) leeks (tough green parts removed, cleaned, finely sliced)
3 tablespoons (1.5 oz) of unsalted butter
1. Add the leeks and potatoes to the salted boiling water and cook, covered, at a light boil until the potatoes begin to cook apart, or when pressed, the potato offers no resistance to crushing - about 30-40 minutes.
2. Remove soup from heat.
3. Puree 1/3 of the soup in a blender or food processor, return to stove on low heat.
4. Add butter and cheese at the moment of serving (after removal from heat).
5. Serve with bread.
More Gouda Pittig Recipes:
Pittig - Turkey Cheese Burger
,
Pittig - Potato Leek Soup
Serving Suggestions
Appetizer, Main Course & Dessert
Pittig is aged for over three year making the flavor special on its own. It makes a fantastic dessert or appetizer tray and can be featured in a main course dish.
Beverage match
Pino Gris or try Pittig with a coctail or scotch.
Tell us what you think