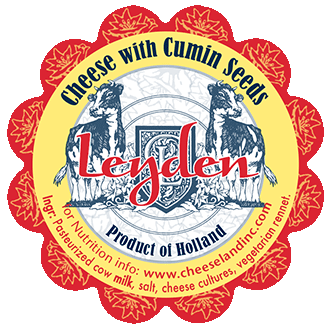 Leyden - with Cumin Seeds
Item number 2282
UPC 837787002824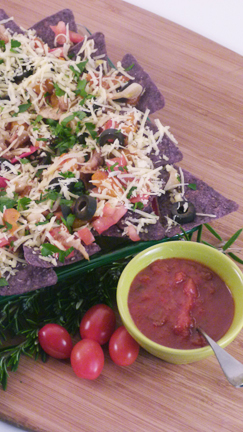 Tri-Colored Nachos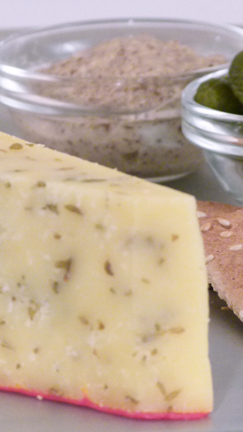 Serving Tips
Tell us what you think
Where did you find Leyden? How did you serve it? We love to hear from you!
Mild Cheese with Cumin Seeds
Leyden
Made with pasteurized cow's milk, Leyden has a firm composition. The addition of cumin seeds (responsible for its tangy flavor and spicy aroma) distinguish it from other Dutch cheeses.
Ingredients & Nutrition Facts
Ingredients: Pasteurized cow's milk, salt, cheese cultures, vegetarian rennet, cumin seeds, annatto color.
Nutrition Facts: Serving Size 1oz (28g) Servings: Varied, Amount/Serving: Calories 100, Fat Cal. 60, Total Fat 7g (11% DV), Sat Fat 4g (20% DV), Trans Fat 0g (0% DV) Cholesterol 20mg (8% DV), Sodium 250mg (10% DV), Total Carb. 0g (0% DV), Fiber 0g (0% DV), Sugars 0g, Protein 11g, Vit A 3%, Vit C 0%, Calcium 25%, Iron 0%.
*Percent of daily values (DV) are based on a 2000 calorie diet.
Recipes
Tri Colored Nachos with Leyden
1 bag each, blue red, and yellow corn chips
Assorted roasted vegetables
2 large handfulls of grated Leyden Cheese
2 ripe avocados sliced or chopped
Salsa
1. Preheat oven to 375° F or 190° C.
2. On an oven proof plate, layer chips in a decorative pattern.
3. Top chips with vegetables and drizzle with a small amount of olive oil. Then top with grated cheese and put into the oven.
4. Bake for 10 minutes or until cheese is evenly melted.
5. Remove from oven, garnish with avocado and serve with fresh tomato salsa.
Serving Suggestions
Appetizer or Main Course
With its flavorful cumin seeds, this cheese makes a memorable lunch or appetizer platter. Serve slices of Leyden with cold-cuts, spicy-sweet honey mustard and a good dark bread such as rye or pumpernickel. These can be served warm or cold and topped with slices of ripe tomato and parsley or fresh arugula.
Beverage match
Serve with Rieslings or try it with Paul Thomas Dry Bartlett Pear Wine from Yakima, Washington. It's also great with German or Belgian beer.
Tell us what you think