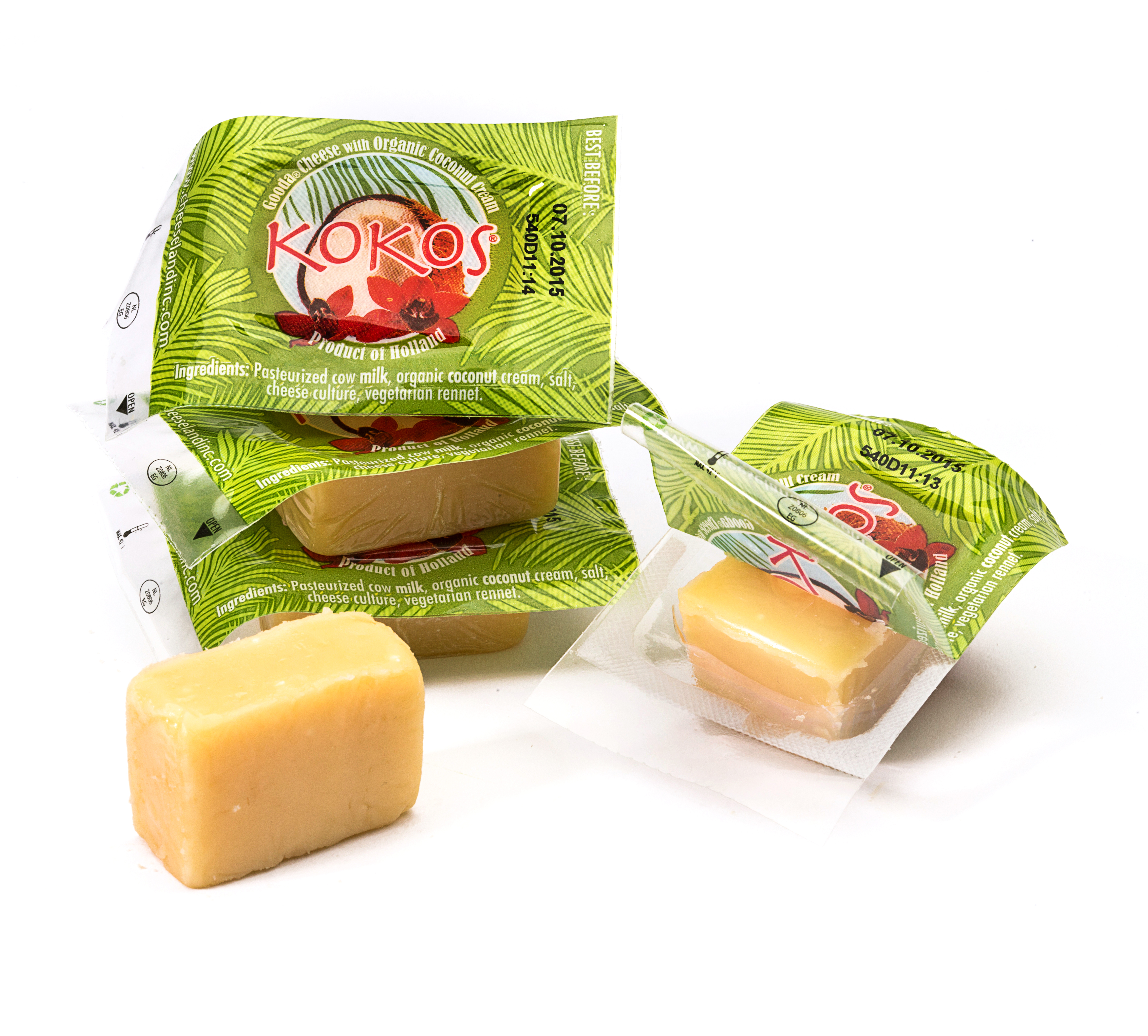 Kokos® Snack Pack
Item number 78000
Piece UPC 837787003333
Case UPC 837787005672
Tell us what you think
Where did you find KoKos® - Coconut Cheese? How did you serve it? We love to hear from you!
15 gram - Snack Packs
KoKos® - Coconut Cheese
Individually wrapped in bite size packaging. Portable, No preservatives, only Natural ingredients. Made with fresh, pasteurized cow's milk and a healthy dash of organic coconut cream. A delightfully unique cheese with a nutty taste and a touch of refreshing sweetness. Enjoy with fruit, crisp crackers or your favorite beverage. Bring this treat with you to work or out traveling.
Grand prize winner at the SIAL Innovation Awards Ceremony, 2015
Snack sizes also available in our Two Sisters® - Isabella®, and Honey Bee Goat®.
Ingredients & Nutrition Facts
Ingredients: Pasteurized milk, organic coconut cream, salt, cheese culture, vegetarian rennet.
Nutrition Facts: Serving Size 15g (1 Piece) Amount/Serving: Calories 57, Fat Cal. 43, Total Fat 5g (8% DV), Sat Fat 3g (15% DV), Trans Fat 0g (0% DV), Cholesterol 13mg (4% DV), Sodium 122mg (5% DV), Total Carb. 0g (0% DV), Fiber 0g (0% DV), Sugars 0g, Protein 3.5g, Vit A 0%, Vit C 0%, Calcium 11%, Iron 0%.
*Percent of daily values (DV) are based on a 2000 calorie diet.
Tell us what you think